Location: 4 Canal Plaza, Suite 1
Portland, ME
04101
Enter through the alleyway at the Key bank sign on lower Exchange St between Middle St and Fore St. Look for Novare Res on the north side of the parking lot.
Price: $$
Novare Res is one of those places that you don't hear a lot about. It is only located in Portland Maine, and it ONLY serves beer. So, if you aren't a beer drinker, than don't go here. If you don't like dark, quiet bars, that don't go here. And if you don't have any interest in TRYING beer, than don't go here. They serve BEER... that is it... BEER. Good BEER, but yes, Just BEER.
Now that that is out of my system. If you aren't a close minded person, or you do like beer, than it is highly recommended that you go to this amazing little bar. Like, now. Okay, well not now, but when you are done reading this blog.
Novare Res, lovingly referred to at "the beer garden" by locals, has a menu with OVER 300 different types of beers on it. Yea, you read it. Over 300, with a variety of 25 taps that rotate all the time.
Don't Believe me? see for yourself:
The Beer List
The Draught List
Alright. So, Novare Res is not the easiest place to find. Not even close. In order to to it, you must know where you are going, and you need to look for a couple key things. For starters, you need to be on Exchange Street.. we have made that mistake before. Secondly, you have to look for this sign :
Other wise you are never going to find the damn place because it is tucked into an alley way.. but once you do find it.. prepare yourself for "epicness".
When you walk into the bar, you are met by a bouncer, sorry kids, you gotta be 21. You then walk into a large room lined with wooden tables and bar in the back right corner...
*Note. This picture was copied off line, and I really have no idea why this women has her baby in a bar... classy.
One you get your drinks, you can either stay at the bar, sit at one of the wooden tables or you have
make your way across the room into a smaller room with comfy chairs and dart boards. However, this room fills up fast, so you may want to start drinking around noon. In the Summer and Fall Months you also have the option to sit outside on the patio. In order to do so, you will have to walk out the front door.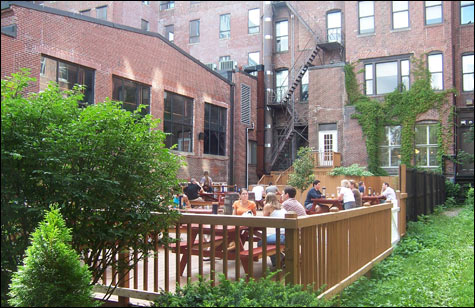 The bar tenders are so incredibly helpful when it comes to picking out your beer choice for the evening. It is hard sometimes when you don't really know what anything takes like. Once you tell them what you like for "American" beer, they can then find something you like.
One night when I was there, I was being my usual indecisive self and I just couldn't figure out what I wanted. After talking to the bartender for a little while he introduced me to an amazing beer from Belgium called Tripel Karmeliet. It is the fruitiest most amazing beer I have ever tasted. I now get it every single time because, well, A it's in my comfort zone and B I know I like it... which isn't always easy to find at the beer garden.
What is even "cooler" is the beers are all served in their own glasses. Meaning that when I order the Tripel Karmeliet, it comes in the glass that is shown above. This is the case with all the different beers. Don't try to steal the glasses though, it's not going to happen. They will not sell them either. :/
We also usually get a cheese platter when we go. This is because we are fat kids at heart, and we love cheese... these two things put together are never a good combination. The beer garden has about 11 different types of plates you can get that have cheese, nuts, and meat on them. They are $3 a piece and I haven't had one yet that I don't like. During the day they also have sandwiches, sweets, and other odds and ends that people may like to go along with their beer.
Food Menu
Novare Res is one of those little amazing local hole-in-the-wall type bars. Go there, it's amazing!!