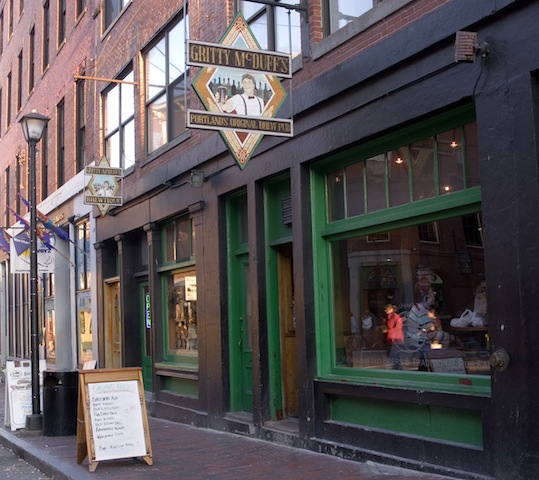 Front entrance to Gritty's Off Fore Street.
Location #1: 396 Fore Street Portland, ME 04101-4026
Price: $
Gritty Mcduff's is a little Irish Pub located right in the heart of Old Port. The pub opened in 1988 and was the first microbrewery in the state since prohibition, with it's brick interior, laid back attitude, and back door entrance from cobble stone wharf street, this Irish pub is truly a way to experience what Old Port is really all about. Gritty's has two floors. The top floor entrance is located on Fore street. Here you can either sit at the bar or sit at the tables that are lined up to both the left or the right. On a laid back afternoon, you are allowed to seat yourself.
Entrance From Wharf Street
Inside Gritty's In Portland, Maine
My boyfriend and I have only been to Gritty's a handful of times. There are a couple reason's for this. For starters, there are so many restaurants in Portland that it just doesn't make a lot of sense to us to go to the same place multiple times. Also, Gritty's really just isn't one of my favorites. Don't get me wrong, the food is good by pub standards, it's just not my favorite place to eat. When we went to the Gritty's in Old Port we got a basket of "extra hott" buffalo wings. They weren't hot, at all. They were good wings, but certainly not hott. For an entree, I got (my favorite) a BBQ pulled pork sandwich on a bulky roll served with a side of french fries. The sandwich was very good. Sometimes pulled pork tends to be a little dry. But this one was very good with plenty of extra BBQ sauce. With it, I got a bud light, even though Gritty's does brew their own beer. The reason for this is that I just haven't really found a beer that I like as far as Gritty's goes. That's not to say that they don't have good beers, that is to say that I am in fact a beer snob. Gritty's has a very good
Beer List
that many of my friends enjoy. The service at Gritty's is good, and I would recommend anyone to grab a drink on a hott day if you are in the Old Port. Unlike Bull Feeney's though, Gritty's just does not have that "Irish feeling." It is very hard to describe. Honestly you are just going to have to go there and see for yourself.
Location # 2: 187 Lower Main Street
Freeport, ME 04032-1002

The Back seating Area of Gritty's in Freeport, Maine
In all honesty, I can't even begin to describe the inside of Gritty McDuff's in Freeport, Maine. The day we went was a beautiful August day, so we sat outside. We literally walked in the door and got seated within 2 minutes. We sat out back on the patio over looking a small play ground for the younger patrons. This was nice because, 1. the kids had a place to play and 2. they were far enough away that I couldn't hear them. It was at this Gritty's that I had my one and only "favorite" Gritty's appetizer. We sat down and decided to order a couple beers and this odd little appetizer called pork fries. Now, what do you think of when you hear pork fries? Whatever it is you are thinking, you are wrong (unless of course you have had pork fries).
These are Pork Fries.
Pork fries are amazingly and deliciously terrible for you.
Basically, for some reason Some Irish Man somewhere had the idea to take pulled pork, slap it on some sweet potato fries, throw some shredded cheese on top of it, and bake it. He was brilliant. These amazing fries should probably be eaten with a fork, but I really didn't see any reason why I couldn't use my fingers. The mixture of sweet potato fries with pulled pork and cheese is a melt in your mouth experience like no other.
In all honestly though, I am not sure if the Portland restaurant has this dish so the next time you are in Freeport Maine, which is located just north of Portland, you should probably indulge in some Pork Fries... otherwise your life is going to be incomplete.